"As an artist, the events of the past two weeks moved me to paint a portrait of George Floyd, whose death has sparked a long-overdue nationwide awareness of the racial inequities that our nation clearly has not moved past. I am thrilled that my work made the front page of the Escondido News, https://www.escondidograpevine.com/tag/escondido-news/

Creative artist Jayne Spencer gets to teaching
Don't tell award-winning watercolor, portrait and landscape artist Jayne Spencer that art is best executed and appreciated only by fellow artists. An award-winning creative artist and teacher, like TV's father, knows best.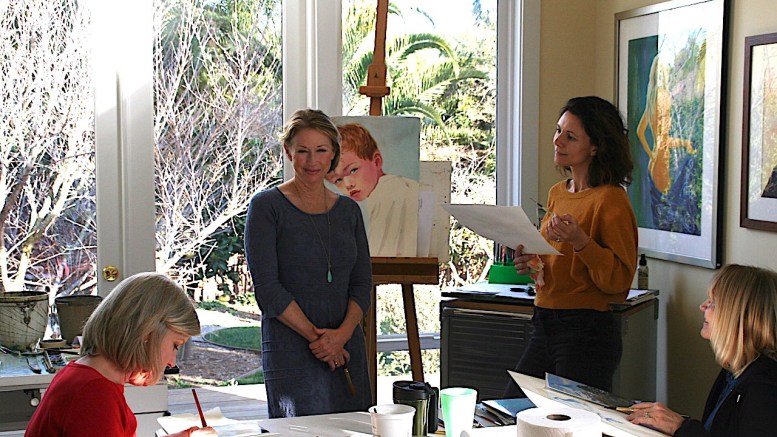 Jayne Spencer, center, works with a class last week including (l-r) Kim Grant, Grace Hoenig - standing - and Bonnie Carpenter./Pennie Engelhardt

"Anybody can be an artist," Spencer said. "Anybody can learn to paint once they learn the skills and techniques. Find something that inspires you. Paint what you love. Art is subjective".

Art is for everyone. Its worth is in the eye of the beholder and creator, according to Spencer, who teaches what she practrices and vice versa. The point is there are many ways to approach art, all valid, and anybody "can become your own artist," Spencer said, "paint whatever you love."
Spencer teaches a variety of classes for a variety of skill sets and interests. Subject matter includes portraits, painting, drawing, and plein air. Skill levels can vary from beginners to more experienced. Classes last three hours. They generally are offered Tuesday, Wednesday and Thursday afternoons at Spencer's Encinitas cottage studio by her house.
All ages are invited. However, Spencer specializes in teaching mature adults, finding a lot of interest from people looking to express themselves in new ways. Spencer presents artistic inspiration with a technical edge. She instructs, critiques and works with her students, showing them structure and direction ultimately enabling them to create to their heart's content.